Tuesday Fiona Whitt
lost her battle with neuroblastoma in January 2009. She was only two months older than Joli. If it can happen to her it can happen to anyone, and I just want to do what I can to help the children that have to go through this. Please take the time to donate. Each dollar you donate will be an entry into my drawing to win this handmade quilt.
It is crib-size and perfect for any young child to practice their letters, or naming animals, or just to snuggle up. Even if you don't want a quilt you can always give it away, but donate for the children with neuroblastoma and donate for Tuesday.
To view the blog party and other items being given away click
here
.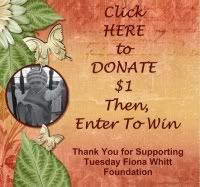 Once you have donated, leave a comment on this post and let me know your name and how many entries you have. At the end of the party I will have Joli draw a name and then I will announce the winner. Good luck!!